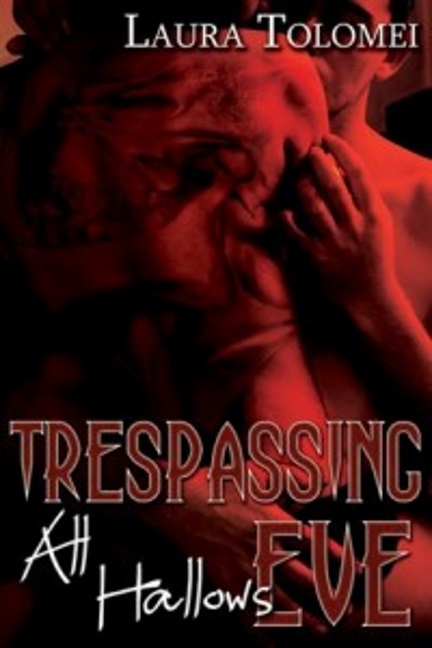 BUY LINK
http://www.extasybooks.com/trespassing-all-hallows-eve/?search=laura%20tolomei&page=2
WATTPAD CHAPTER ONE
http://www.wattpad.com/75913893-trespassing-all-hallows-eve-trespassing-series
EXCERPT LINKS
Captured by his fantasy heroine Shield, comic book artist Troy Haynes will learn from the Guardian of the sacred passageway about the beginning of Halloween.
"This is a story about a comic book writer who dreams of a flame haired woman and makes her the heroine of his next comic book adventure. What he doesn't realize is that she really exists in another dimension, and on Halloween she can cross through. She takes him back to her dimension (which can only be done by having sex) so that her lover can tell him her story. In the beginning of the book, everything is as normal as you would expect the author introduces a few characters, but does not give them enough time or description. It isn't clear, at first whom the book is actually about, and it switches from reality to unreality rather suddenly. There are a lot of questions raised by the authors explanations of this magical place, and a lot of holes in those explanations. The sex scenes however are all that anyone could hope for, if a little too raunchy for my taste. The ending could have used a little more buildup so that the event would seem like more then a mere fact." LRR
"You look like Artemis or…" He brushed his hand on her full breast. His touch sent shivers down her back and he closed his thumb and forefinger on the hard nipple. "Minerva," he finished, his mouth already on the hard point.
The Goddess is one, though She has many names, but it was no time for a philosophical discussion.
AUTHOR: Laua Tolomei
SERIES: Trespassing, Book 2
GENRE: Erotica, Gay LGBT, Dark Fantasy, Paranormal, Adventure, Holiday, f/f, m/m, m/m/f
ISBN# 9781554871575
ASIN# B003XRF1BK
HEAT LEVEL: 4 flames
PAGES: 160
WORD COUNT: 40.000
RELEASE DATE: 15 October 2008
PUBLISHER eXtasy Books
COVER ARTIST: Angela Water
And if you liked Attilio & Aurelius, DON'T MISS the passionate prequel of ROMAN SEDUCION at eXtasy Books on their sensual beginning
Val from Romance Writers Reviews says, "The sex scenes however are all that anyone could hope for…"
BLURB:
Different dimensions clashing, from India to mythical Avalon, Brighit's has the power to stop evil from destroying both worlds. But is she strong enough to use it? Don't miss the fascinating sequel to ROMAN SEDUCTION!
TAGS
Erotic Romance with an Edge, Laura Tolomei, LallaGatta, Lalla Gatta, Author Laura Tolomei, literary, reading, writing, author, ebook, e-book, fiction, erotica, erotic, extasy books, men-love, man-man, men-men, lesbian, gay, LGBT, gay LGBT, MM, MMF, ménage, Celtic Britain, Halloween, horror, historical, dark fantasy, paranormal, Ancient Rome, Roman History, Brighit, Attilio, Aurelius, centurions, Rome, army, soldiers, Trespassing All Hallows Eve, alcove, triclinium, Trespassing Series, pullus, black arts, black magic, dark romance, goddess, Roman Seduction
EXCERPT PG: (609)
"They told me there was a woman posing as a smith craft," the ironic Roman voice cut through her mystical trance, "so I came to check on these rumors," he finished, his perfect accent taunting her even more.
Shaking her head free of the fiery images, Brighit got up from her cross-legged position in front of the blazing forge and turned around. A ruggedly handsome stranger stood at the door, a heavy mantel covering his tall body. Dazzling blue eyes, set in a carved face, stared back at her. A heavy nose, thick lips and light-brown hair, which turned golden under the sunlight, completed the arresting image.
"The smith man is right down the street," she told him, half-turning to dismiss him.
"But I rather like the idea of a woman…" his voice grew huskier, "handling my sword." He took a step forward, forcing her to give him attention. "In fact, it may even be interesting to have her forge one for a change." An unmistakable look ran down her body, though it only lingered for a moment. Just as quickly as he had stated a certain interest, he shifted his gaze, coldly ignoring her apparently wanting to deny what his eyes had told her only a moment before. "Always if these works are yours," he continued, glancing at some of the weapons she kept on the wall.
"Of course, they are," she spat, bothered by his doubtful tone.
He pretended to study some of the objects for a while. Then, he looked at her, his eyes openly challenging. "How can I be sure?" he asked at last.
Annoyed at herself for allowing him to pull her inside his web, she took a step in his direction. "You can't," she retorted coldly. "But you're in luck today. As I said, the smith man is right down the street and no one's keeping you here."
His head bowed slightly as if to commend her sarcasm. "Considering the welcome, I just may," he said, his conscience clearly weighing alternatives, almost battling against himself. Then, as if finally making up his mind, a large grin broke on his face, lighting his handsome features. "But in some arts, men are not as talented as women." He took another step forward. "And my sword deserves a special treatment."
His eyes suggested a wide range of treatments, but now it was her turn to pretend to ignore him. "What if I refuse?" she asked.
"I could order you, of course." He grinned. "Or use more…convincing methods." This time, his eyes did not merely suggest. They traveled up and down her length, leisurely undressing her, appraising each curve, before reluctantly putting her clothes back on.
The urge to slap his face was so irresistible that, without thinking, she raised her hand, open palm ready to strike.
He grabbed it. "I wouldn't do that if I were you," he warned softly, sending chills down her back. His eyes flashed with satisfaction, obviously pleased with her reaction. "Playing with fire can be extremely dangerous," he continued more pleasantly, "and you should have learned by now." He grinned again. "They also told me you were an intelligent woman, though the gods know, I still have to find one."
"This stupid woman certainly doesn't have the power…or the stomach to keep you here against your will," she challenged. "Like I said before, you may try your luck down the street."
His blue eyes sparkled. "Actually, I love challenges," he replied, "especially impossible ones." Only then, he noticed he was still holding her hand, but did not let it go. "Besides, you haven't told me when my sword will be ready."
EROTIC EXCERPT M/F
Brighit sighed. Time to go, she thought, putting her mantle's hood back on her head. But destiny had other plans. As she headed slowly downhill, out of the darkness a hand grabbed her shoulders, pulling her backwards.
"I forgot to tell you how I wanted my new sword," a husky voice whispered in her ear, "its exact shape and dimension." The Roman turned her around. "Isn't this the perfect place to show you?"
"I think I know all about swords," she said haughtily, not really surprised to see him there.
Dressed in the Celt's clothing, rather than the severe Roman uniform, he looked even more handsome.
He grinned. "Not if you haven't seen mine," he assured, grabbing her hand.
"Let me go," she hissed. "I don't like men."
He stopped for a second, searching her face. "And I don't like women," he replied eventually, sounding truthful. "So, I guess we're even."
Then, without waiting further, he pulled her to the oak tree. The sacred area was purposefully kept empty and for a moment she thought horrified he would break traditions. Instead, he curved left, heading inside a groove. Full of vegetation at the entrance, it opened up after a few steps to a comfortable though confined clearing.
He stopped at the center and made her go down on her knees. She felt him already hard and made out his shape through the cloth.
"It's a bit small for today's sword standards," she teased.
"The important thing is to know how to use it and I can assure it's a formidable weapon."
Brighit wanted to tease some more, but the heat wave broke through and all thoughts ceased as her senses took control. She pressed her mouth to his crotch, her hot breath warm even through the cloth. He quickly discarded his annoying clothing and pressed her head against his demanding cock proudly erect in midair. Brighit's mouth closed avidly on the hard bulging head, her tongue wrapping around it, then sliding from the base to the top. Her full mouth felt good, echoes of different lives told her how much she missed it.
The Roman moved against her, stepping up his rhythm as she tried to swallow him whole. More than once, he almost choked her, but she liked it all the same, her head eagerly working up and down his long length, her mouth sucking the silky flesh, while her tongue slid along.
"You really do know how to handle a man's sword," he mumbled, grabbing the unruly curls to stop her head, "but I want more."
"I thought you didn't like women," she taunted.
"I don't, usually, but you—" He pulled her up. With a single move, he removed her clothing and admired her pale white skin gleaming in the darkness. "You look like Artemis or…" He brushed his hand on her full breast. His touch sent shivers down her back and he closed his thumb and forefinger on the hard nipple. "Minerva," he finished, his mouth already on the hard point.
The Goddess is one, though She has many names, but it was no time for a philosophical discussion.
BISEXUAL EXCERPT NO EROTICA:
"Flamma," Attilio repeated.
"Yes?" She had heard him come in with his friend and had felt certain she would not see him for hours. Whoever the other man was, they shared a passionate sexual relationship, their meetings lasting sometimes the entire afternoon.
"He wants to meet you," Attilio said, holding out his hand to her.
"Me? Are you sure?"
He nodded.
Brighit took the metal out of the fire before it liquefied, then hurried to him. Her heart beat violently as they went up the steps to her room and that same pounding heart almost fell to her stomach when Attilio opened the door.
Attilio's deep voice broke through her mists. "Aurelius, this is Brighit." Then, he turned to the fiery woman, "Flamma, this is Aurelius Ladeo."
"Nice to meet you," Brighit mumbled. It seemed clear that Aurelius was not very happy with the interruption to his favorite game, his expression clearly indicating annoyance. "Well, I have to finish up, so—" She turned to the door, hoping for a quick escape.
"Wait," Attilio stopped her. "I didn't mean for you to leave so fast." He turned to Aurelius. "Right, pullus?" he asked, using the affectionate nickname that referred to his dark features.
Brighit saw his discomfort increase. "Look, I understand if your friend doesn't want to meet me. I'm fine with that, Attilio, really." Again, she turned to the door.
"No, wait." This time the darker man had spoken.
Brighit turned around slowly.
"I'm sorry, Brighit, I'm really not comfortable with women. They make me nervous and I've never liked them. But Attilio said—"
"I wanted him to meet you, flamma," the centurion cut in, his blue eyes sparkling, "so that…maybe…we could play together."
Silence fell in the room. The idea sent chills down Brighit's back. One look at Aurelius, though, did not confirm her excitement.
"Pullus is just scared," Attilio assured, getting closer to his lover, "but he's just as intrigued." A brief touch and Brighit saw the hard shape underneath the clothes. "Aren't you, pullus?" Attilio deepened the touch.
"Hem…why don't you get started?" Brighit said lightly. "I have to wash up anyway and change," she continued, looking at her dirty work clothes.
"All right, flamma," Attilio was already bending on his knees, his hands pulling away Aurelius's clothes.
Brighit left the room and went downstairs to wash. From the well, she poured cold water on her face, then down her body. She shivered, feeling the tingling sensation, while her skin still burned from the heat Attilio had caused with just one word. In fact, it was odd that a single man held the power to excite her senses like no one before him, even without touching her. The scenario he had depicted was incredibly exciting…if only Aurelius chose to cooperate.
EROTICA F/F EXCERPT:
Brighit so far had steered clear of men in many ways. Her tight-knit community accommodated only women. In their arms, she found energy, strength, but mostly love, both spiritual and physical. She recalled with intense pleasure the many nights spent holding the warm body close, finally fulfilling her childhood fantasies. Her hand loved to travel on the silky skin, stopping at each intriguing curve to explore it in detail. The other woman sighed and arched her back to offer more tantalizing flesh to the caress, so Brighit replaced touch with taste. Nipples hardened, appetites wetted, legs spread apart to call for more intimate touches. The fiery woman's curls tickled as her mouth slowly descended in the sweet vortex that made both their senses spin.
Brighit gently brushed her fingers on the sticky open trap dripping with desire before she bent down to taste it. Her tongue lapped vigorously the entire length, running up and down, tracing the edges, but denying deeper contact. She loved everything about the defenseless wet slit—taste, feel, texture—to end the game too quickly. Brighit drove the other woman wild as she refused to give in to her swaying hips pushing against her mouth. She liked to make them suffer…just a little. Returning up, her fingers dipped in yielding openings that gratefully wrapped hot flesh around them, holding them firmly in place. The woman's ass, too, felt as wet as the sticky trap and Brighit loved to torture it by slipping one or two fingers inside, then pulling out before thrusting back forcefully.
But what really drove the woman mad was Brighit's tongue on the throbbing clit, by now a pulsating huge swell that screamed for attention. Just a few brushes would be enough to send the woman to another dimension, yet again Brighit first teased some more. Her hard tongue tip remained on the surface, hardly touching the sensitive flesh, circling it gently and increasing desire feverishly. In vain, the woman arched her back, pushing her hips inside Brighit's mouth, moving sideways to rub the throbbing swell against Brighit. With a grin, Brighit pulled back, her tongue still close enough for a sure feel. Only when she chose to end the torture, she dipped her mouth and closed it on the flaming center, sucking deeply while her tongue wrapped around the tiny piece of raw flesh. At the same time, her fingers increased their frantic rhythm, pushing inside, then out, completely covered in sticky fluid. By then, Brighit had brought the woman so close to her lips she could almost swallow her and she had no trouble feeling pleasure cursing hot and rapid through her body. Unlike men, women's pleasure was less visible, but watching the delightful pleasure waves traveling in rapid succession just beneath the skin surface, Brighit had no doubt it was much more intense.
Yes, it was an extremely satisfying experience, which gave fiery woman the extra energy she needed to carry her heavy load.
EXCERPT M/M/F RATED R:
But Aurelius wanted more. When Brighit collapsed on Attilio, the dark man moved her aside. "Actually, I wanted you," he told Attilio, his mouth traveling to the limp cock.
"You should have said so from the start, pullus." The centurion grinned. "But I told you, she'd be irresistible."
"I don't care about her," Aurelius continued, his hands already raising Attilio's interest.
Brighit joined the effort, her mouth working on top of Aurelius's skillful slides, her tongue wrapping around the growing head. Soon, Attilio was big enough to satisfy Aurelius's lust. Knowing exactly what he wanted, Attilio got up, his space quickly occupied by Aurelius. Ass raised, he pushed back, inviting Attilio to take him.
"Impatient, pullus?" the centurion teased, before pushing inside.
Aurelius sighed and moved against him. Attilio looked at Brighit, watching from the sidelines, her gaze following their mating with interest.
Attilio moved his head in Aurelius's direction. "Flamma, you can join, too, if you want," he suggested.
Brighit understood. She slipped beneath Aurelius's legs, her mouth reaching for the hard shaft just waiting to explode. When her mouth closed on it, Aurelius shivered with pleasure and lost control, drowning her with hot fluid.
DARK EXCERPT:
On a full moon night, the priest with the undead ambushed Gaurav near the sacred pond. When Brighit heard her lover's cry of pain, it was too late. They had tortured him, tying him down and using knives to slice through his skin, cutting piece after piece in a slow bloody way. Saarek had hoped he would scream, cry, beg for his life or do anything besides staring with cold hard eyes. Still, the undead did not seem to mind the absence of any reaction, taking pleasure at Gaurav's pain, watching him die slowly bit by bit. But he did not give them full satisfaction because he refused to go without saying goodbye.
At Brighit's arrival, he was barely alive. "Promise you'll close the passage, jvālā," he whispered in her ear with his last breath.
"Oh love, I promise," she sobbed, vainly trying to hold on to his life. But she had no power to stop death. All she could do was clasp the battered body, still bleeding from the wounds, howling her grief, unable to let go of the empty shell. She wept for a whole day and night, but when the tears dried, she knew exactly what she had to do.
Hunting Saarek down was easy. Submitting him to the sophisticated fire torture was harder, but so delicious. Tied to the ground, she burned off his skin, bit by tiny bit, slowly taking her time with each burn until she could peel off his flesh with a single touch, leaving him more than naked like no man had ever been before. He screamed, cursed and begged for his life. When he saw no pity in her eyes, he cried for his disciples, but none came, too afraid of what Brighit had become. People, too, began talking of a sanguinary Goddess, revengefully claiming her right to take lives in a bloody ritual that sacrificed human beings. And the legend grew in India's impenetrable jungles where Kali reaped a whole new order of disciples who devotedly embraced the horror, following her blood-stained trial littered with corpses.
LINKS
Literay Nymphs Review 1 nymph
http://literarynymphsreviewsonly.blogspot.com/2009/06/trespassing-all-hallows-eve_22.html
Goodreads http://www.goodreads.com/book/show/6409098-trespassing-all-hallows-eve
Alternative Read blog (Sassy Brit)
http://www.blogcatalog.com/search.frame.php?term=laura+tolomei&id=d6ac7c874e0ddb54847595e8ba05943e
PRLog Press Release
http://www.prlog.org/10129906-author-laura-tolomeis-first-book-release-trespassing-all-hallows-eve-finally-available.html
Book Hitch
http://www.bookhitch.com/searchresults.aspx?pageNum=0&searchword=laura%20tolomei&subcat=none
Press release
BiblioScribe
http://www.biblioscribe.com/press/publish/book_press_release/Author_Laura_Tolomei_s_first_e-book_release_TRESPASSING_ALL_HALLOWS_EVE_finally_available.shtml
PR Log
LOVE ROMANCE READERS REVIEW
"This is a story about a comic book writer who dreams of a flame haired woman and makes her the heroine of his next comic book adventure. What he doesn't realize is that she really exists in another dimension, and on Halloween she can cross through. She takes him back to her dimension (which can only be done by having sex) so that her lover can tell him her story.
In the beginning of the book, everything is as normal as you would expect the author introduces a few characters, but does not give them enough time or description. It isn't clear, at first whom the book is actually about, and it switches from reality to unreality rather suddenly. There are a lot of questions raised by the authors explanations of this magical place, and a lot of holes in those explanations. The sex scenes however are all that anyone could hope for, if a little too raunchy for my taste. The ending could have used a little more buildup so that the event would seem like more then a mere fact."
Reviewed by: Val
Val of ROMANCE READERS REVIEW says of TRESPASSING ALL HALLOWS EVE: "…it switches from reality to unreality rather suddenly. … The sex scenes however are all that anyone could hope for…"
BUY LINKS
Publisher eXtasy Books
http://www.extasybooks.com/trespassing-all-hallows-eve/?search=laura%20tolomei&page=2
Amazon Kindle
ASN B003XRF1BK
http://www.amazon.com/Trespassing-All-Hallows-Eve-ebook/dp/B003XRF1BK/ref=sr_1_1?s=books&ie=UTF8&qid=1283066528&sr=1-1
Google Play Books
https://play.google.com/store/books/details/Laura_Tolomei_Trespassing_All_Hallow_s_Eve?id=CuKXBQAAQBAJ
Kobo
https://store.kobobooks.com/en-US/ebook/trespassing-all-hallow-s-eve
BUY LINKS
eXtasy, Amazon Kindle, Google Play Books, Kobo – LallaGatta