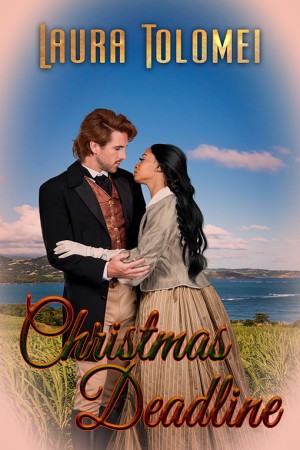 AUTHOR Laura Tolomei
FACEBOOK THREADS: Laura Tolomei Horror Side
GENRE: Erotic Romance , GLBTQIA, Historical, Holiday, Menage, COMING SOON
ISBN: 978-1-4874-3172-3
Estimated Publish Date: December 25, 2020
PAGES# 309
WORDS# 90.558
HEAT: 4 flames
PUBLISHER: eXtasy Books
Tags: Adult, Erotic Romance, GLBT, Historical, Menage, Holyday, Sugar plantation, West Indies, Antilles, Sugar canes, Caribbean sea
BLURB
Three people, three different destinies, a common deadline. Will Christmas of 1855 prove to be their downfall or the way forward to a new union and everlasting happiness?
Count Mathew de la Roche feels trapped. To keep La Belle Dame, the sugar plantation in Martinique he inherited at his uncle's death, he must enter into a stable relationship and provide for a viable heir of his own by Christmas of 1855. Problem is—he likes variety in his bed and doesn't want to be tied down to a single person.
Amandine Duvalier is the Creole daughter of a slave and a marquis, the master of the now-abandoned Cantrell plantation. Impossible for her to inherit her father's estate, she's about to be kicked out of the place where she was born, and she has only until Christmas of 1855 to find new accommodation. Problem is—she's a certified witch, so no one's going to offer her a roof over her head.
Kabir Sayed is an Indian prince from one of those obscure reigns tolerated by the British. He stands to inherit the throne, but he's not sure he wants it. His brother would be better suited for this job, and Kabir has left home to learn more of the world surrounding him. Now, he's working as an indentured laborer on La Belle Dame, cutting up sugar canes by the hundreds, and he has until Christmas 1855 to make up his mind about the succession. Problem is—Johannes Van Dyke has it in for him, and he might've just killed him after that severe beating.
As their paths cross in unexpected ways, the Christmas deadline looms on the horizon. What hasn't entered the equation so far is the magnetic attraction they feel for one another. Will it be enough to overcome their prejudices and lead them to true union and everlasting happiness?
Excerpt
"Well…" Evidently taken aback, Mathew creased his forehead. "It's hard to say, really." He shifted on his seat as though nervous. "I mean, I didn't think I'd like it at first." He crossed and uncrossed his long legs. "The heat wasn't what I'd expected, and the social life is practically non-existent. I was used to Paris and everything it offered, the museums, the art galleries, the clubs." He raised his gaze. "You know how it is, right?"
It was a rhetorical question.
Of course, Octave knew and understood. To follow his lover, he'd given up the very things Mathew was describing.
"I have to say it wasn't at all easy." The count drew in a long breath. "On the plantation, there are only sugar canes, laborers, sugar canes, servants, and more sugar canes. There's nothing else but the daily work of raising those sugar canes, then cutting them down to extract their precious molasses and starting everything over again." He huffed. "The first two months, I thought I'd go crazy."
"You didn't," Octave provided gently, watching him closely.
"No, I didn't," Mathew admitted ruefully. "I'm still wondering why not."
"Your cousin Barnabe held on to the plantation thinking of
the money he'd make out of it," Octave observed dryly.
"That's why he failed." Mathew chuckled. "I never thought about the money or the profit. It's just that one day, coming out of the house, I stopped on the porch and glanced out in the distance." A faraway look glazed his striking eyes. "The sun was setting on the sea, and it was like a whole rainbow was dipping in the water. The green of the vegetation and the gold of the sandy beach made the sight so beautiful I couldn't move for a long while. I just stood there, transfixed by all the beauty around me. I almost couldn't breathe from the magnificence of it all." His voice broke. "It was really intense." Regaining control over his emotions, he shook his head. "I mustn't be making too much sense." He smiled apologetically.
"On the contrary, I understand perfectly." How could I not?
He'd noticed the same reaction on Nestore more than once. He had a fondness for sunsets, and he'd sit on the porch for hours, simply watching darkness as it fell around him. Octave would sit by his side, not quite as taken, but breathing the warm air and melting in the sweetness of the moment.
"You do?" Surprised, Mathew drew back. "Well, then, I don't need to explain any further. That place has done something to me. After I saw all that beauty, I didn't miss anything about my old life. Nothing of what Paris offers in such abundance mattered anymore. It was like I'd reached a state of peace and contentment I'd never known before." The smoky green gaze rested on Octave's face. "It was like I'd come home."
"Really?" Breathing a sigh of relief, Octave tried to quell his growing excitement.
"Yes, strange, isn't it?" Mathew's raised eyebrows testified to his puzzlement. "I never thought I'd feel like that about any place, but there you have it." Inclining his head, he caught Octave's gaze. "That's why I'd do anything to keep it."
"Anything you say?" The lawyer held Mathew's steady gaze.
#PMInc 10 Day Party
August 20th through August 31st #PMInc is doing a book extravaganza with several of their clients and Silver Dagger Book Tours.
$25.00 Amazon Gift Certificate
1 eBook From Each Author
(From the titles listed at https://personalizedmarketing.info/13th-anniversary/)
Print Copies of La Roe's Curse and Fay's Wish
Silver Dagger Book Tour site link which will include the contest entre form.
https://www.silverdaggertours.com/tour-sign-ups/pminc-anniversary-blitz-sign-ups