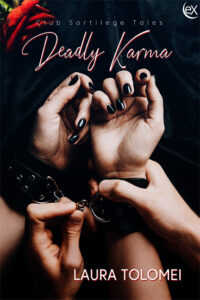 Deadly Karma
A Club Sortilege Tale
By Laura Tolomei
GENRE:
BDSM, Multiple Partners, Paranormal, Contemporary, Time-Travel, Gay Male-Male
WORDS# 49,982
Available Now

LOGLINE 
He wasn't looking for love or soul mates. He was looking for that Halloween high. Such was his justification. What comes around goes around was more like it.
BLURB 
When Eunice Saint Jacques meets Adrien Ascott at the Halloween party of one of New Orleans's prestigious hotels, she thinks he's cute.
Nah, she thinks he's the most gorgeous creature ever. Little does she know he isn't all that he seems to be, and that this Halloween will seal her destiny forever!
While it's Presentation Night at Club Sortilege, the renowned New Orleans BDSM club, Yvette Carlisle, the Grand Master's slave, is worried. What happened to her friend Eunice should never have happened.
Not now.
Hell, not for a long time.
Yet, here she is, talking to Adrien and uncovering an age-old curse that makes his karma as deadly as that of Count Dracula himself. Is it true, or is he spinning just another tale of bondage and sadism in the plush lounge of Club Sortilege?
Excerpt
Defeated, Julia slumped on the bale of hay she was using for support.
"Ah, ah, ah." Adrien's vicious spank had her bolting upright again. "I didn't allow you to lower your back."
She wailed in frustration. "But—"
"Hush." The leather crop crackled as it whipped the air before landing squarely on her ass. "Shut your mouth and listen." Going to stand in front of her, he bent and cupped her face between his palms. "You shouldn't feel ashamed for liking what I'm doing or being so wet for it. It's a natural reaction." Softly, he removed a mop of brown hair from her eyes and noticed from their shine how close to tears she was. "Have you ever heard of the Marquis de Sade?"
Her eyes grew huge.
#SatSpanks #LauraTolomei @LallaGatta #BDSM #Erotica