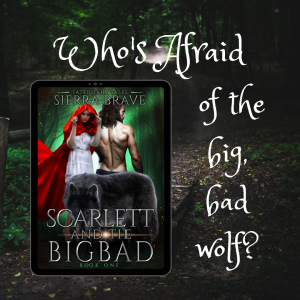 Title: Scarlett and the Big Bad
Series: Fate Fairytales 1
Author: Sierra Brave
Release Date: March 9, 2021
Keywords/Tags: Paranormal Romance, Alpha Dom, Werewolf, Red Riding Hood Retelling, Adult Fairytale, Steamy Romance, Power Exchange, Domestic Discipline, Fantasy Romance, Magic, Romantic suspense, Fated Mates
Tagline:
Who's afraid of the big, bad wolf?
Buy Links:
(Available for pre-order until release date 3/9/21)
Amazon US: https://www.amazon.com/dp/B08VS2SS2N
Amazon UK: https://www.amazon.co.uk/dp/B08VS2SS2N/
Universal Link: https://books2read.com/u/mKyePP
Blurb:
Promised power and position, Scarlett Capuche left her tiny village to join the prestigious Order of the Phoenix.
Monty Blackwolf never wanted a mate, especially not a human raised on a hidden farm for blood-ritual sacrifice. But his werewolf's heightened sense of smell drew him to Scarlett's sweet fragrance from miles away.
Duty-bound to protect her, he will break her of her religious devotion to the magical terrorist group responsible for the murders of his parents and older brother, even if he has to put her over his knee and turn her bottom as red as her hair.
She belongs to him now, and he will claim all of her despite his affliction with a unique, third shifter-form he doesn't fully understand and isn't able to control.
Will Monty save Scarlett, or will he prove more dangerous to her than anyone else?
Author's Note: If you're offended by steamy fairytale retellings with graphic language, explicit put-you-in-the-moment love scenes, elements of power exchange, and domestic discipline, you might want to look for a different book.
Excerpt Two: (Probably NSFW)
He cleared up the tea tray and then moved the table about a foot back from the couch before taking his seat right beside where she was standing. He spread his feet apart and took her hand. Before she understood what was happening, he pulled her over his knee.
She gulped as her hands reached out to his hardwood floor, steadying her body as her head hung down across from her shoes. She hadn't been in such a position since she was six-years-old. "What are you doing?"
"What I have to do to keep you safe." Her face burned with shame as he rubbed his palm across her bottom. His circular movements stirred something between her thighs, a tingling ache she hadn't expected.
"Please don't." A shiver scurried up her spine as she tightened her stomach muscles, attempting to raise her torso.
As he lifted his hand, she immediately missed the weight and heat until he landed a swat across her ass. Her mouth opened on a gasp, though he hadn't struck her hard.
He hit me! A slight sting resonated, but the pulsing beneath her skirt had intensified. Her face flamed from her cheeks to her ears, but she took consolation in him not knowing. If he could somehow see what she was feeling, the humiliation would have been unbearable. The second swat landed, followed by the third. "Ow!" More and more fell until she lost count and a slow burn built across her rear. She squirmed as the stinging amplified.
Cool air covered the back of her legs as he lifted the hem of her dress and threw it over her back. Her jaw dropped. "Wait. No." She reached behind her, attempting to push the garment back down, but he forced her arm away, overpowering her with ease.
"You aren't in charge here."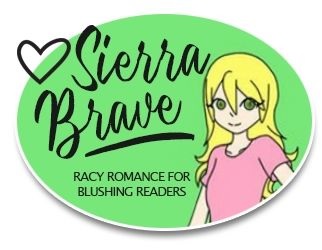 About Sierra:
Sierra Brave is a multi-published author of heart-pounding, blush-inducing romance with put-you-in-the-moment love scenes. She enjoys writing about a variety of gorgeous alpha males who can't resist head-strong heroines. Curvy girls have a special place in her heart and often grace the pages of her books. Tales of shifters, cowboys, twisted fairy tales, space pirates, Amazon warriors, and vampires capture her imagination as do tempting spanking and ménage scenarios, but she also engages in more down-to-earth themes such as office romance. You'll find lots of unique characters and humor in all of her stories.
Follow Sierra:
Newsletter: https://mailchi.mp/7332d9f55a11/blushing-press-sign-up-page
Facebook: https://www.facebook.com/Sierra-Brave-Author-1422713414692067
Instagram: https://www.instagram.com/sierrabraveauthor/
Twitter: https://twitter.com/BraveSierra
BookSprout: https://booksprout.co/author/2937/sierra-brave
Blog: https://sierrabrave.rocks/news-and-musings/
Website: https://sierrabrave.rocks/