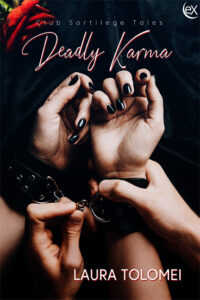 Deadly Karma
A Club Sortilege Tale
By Laura Tolomei
GENRE:
BDSM, Multiple Partners, Paranormal, Contemporary, Time-Travel, Gay Male-Male
WORDS# 49,982
"With erotically raw language and content, this paranormal, erotic, dark fantasy holds all the drama and sexual tension that readers expect from Author Laura Tolomei." BM Global Network rated it 5-Stars
LOGLINE 
He wasn't looking for love or soul mates. He was looking for that Halloween high. Such was his justification. What comes around goes around was more like it.
BLURB 
When Eunice Saint Jacques meets Adrien Ascott at the Halloween party of one of New Orleans's prestigious hotels, she thinks he's cute.
Nah, she thinks he's the most gorgeous creature ever. Little does she know he isn't all that he seems to be, and that this Halloween will seal her destiny forever!
While it's Presentation Night at Club Sortilege, the renowned New Orleans BDSM club, Yvette Carlisle, the Grand Master's slave, is worried. What happened to her friend Eunice should never have happened.
Not now.
Hell, not for a long time.
Yet, here she is, talking to Adrien and uncovering an age-old curse that makes his karma as deadly as that of Count Dracula himself. Is it true, or is he spinning just another tale of bondage and sadism in the plush lounge of Club Sortilege?
Excerpt
"I don't think it'll make any difference."
She was hopeless, after all, had been all her life, so why would things change any tonight?
"Of course, it will." Yvette stared at her with an optimism Eunice was far from feeling. "Tonight's Halloween, and we've been invited to a very exclusive party in a very exclusive hotel."
"Yeah, I can't wait to get into La Maison del Fuego," Palomar squealed enthusiastically. "I've always wanted to go to their renown Halloween event but never dated anyone with the right connections."
"Now, we'll all get to go thanks to this fabulous Halloween party." Yvette giggled, twisting the fake whiskers that were part of her cat outfit.
Eunice watched her with a certain degree of envy. Yvette was everything she wasn't. Six feet tall, graceful, long, golden auburn hair and feline green eyes, with the miles-long legs of a runner, and a quick intelligence Eunice had come to respect over the three years she'd known her.
"I know it'll be great fun." Palomar's black eyes sparkled at the prospect.
She was another incredibly beautiful woman who bore her Creole ancestry with gracefulness and ease. Not too hard to do when you were five feet nine, had mysterious black eyes, luscious olive skin, regular features, and a mass of glossy black hair tumbling all over the place. Plus, her maid costume with the outrageously skimpy skirt, red stiletto heels, black fishnet stockings, and purplish feather duster strapped to her waist made Palomar look so sexy Eunice had no doubt men would be all over her. Vice versa, they wouldn't waste a single peek on her, Eunice Saint Jacques, dressed as Queen Elizabeth, the first, not the second.
"For you, I'm sure." Sadly, Eunice shook her head. "You look gorgeous in your costumes while I…" Wrapped inside the most cumbersome outfit of all, she gazed one more time at her mirror image. "I look more like Henry the Eighth than his daughter Elizabeth."