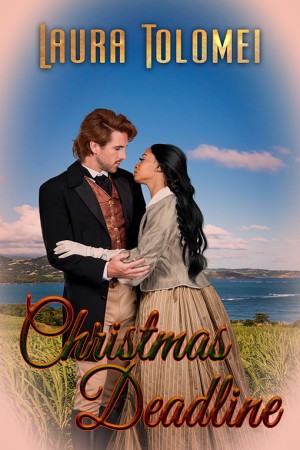 AUTHOR Laura Tolomei
FACEBOOK THREADS: Laura Tolomei Horror Side
GENRE: Erotic Romance , GLBTQIA, Historical, Holiday, Menage, COMING SOON
ISBN: 978-1-4874-3172-3
Estimated Publish Date: December 25, 2020
PAGES# 309
WORDS# 90.558
HEAT: 4 flames
PUBLISHER: eXtasy Books
Tags: Adult, Erotic Romance, GLBT, Historical, Menage, Holyday, Sugar plantation, West Indies, Antilles, Sugar canes, Caribbean sea
BLURB
Three people, three different destinies, a common deadline. Will Christmas of 1855 prove to be their downfall or the way forward to a new union and everlasting happiness?
Count Mathew de la Roche feels trapped. To keep La Belle Dame, the sugar plantation in Martinique he inherited at his uncle's death, he must enter into a stable relationship and provide for a viable heir of his own by Christmas of 1855. Problem is—he likes variety in his bed and doesn't want to be tied down to a single person.
Amandine Duvalier is the Creole daughter of a slave and a marquis, the master of the now-abandoned Cantrell plantation. Impossible for her to inherit her father's estate, she's about to be kicked out of the place where she was born, and she has only until Christmas of 1855 to find new accommodation. Problem is—she's a certified witch, so no one's going to offer her a roof over her head.
Kabir Sayed is an Indian prince from one of those obscure reigns tolerated by the British. He stands to inherit the throne, but he's not sure he wants it. His brother would be better suited for this job, and Kabir has left home to learn more of the world surrounding him. Now, he's working as an indentured laborer on La Belle Dame, cutting up sugar canes by the hundreds, and he has until Christmas 1855 to make up his mind about the succession. Problem is—Johannes Van Dyke has it in for him, and he might've just killed him after that severe beating.
As their paths cross in unexpected ways, the Christmas deadline looms on the horizon. What hasn't entered the equation so far is the magnetic attraction they feel for one another. Will it be enough to overcome their prejudices and lead them to true union and everlasting happiness?
Excerpt
Kabir Sayed
(PG Excerpt)
"Hey, dirtbag." The new insult was directed to Jules Duchamp's, a small Creole man. "Do you want that machete up your ass?"
Jules didn't reply, nor did he bothered to look at Johannes.
"Hey, did you hear me?" The overseer took a couple of steps toward the man, waving his whip around menacingly.
Kabir wished he'd shut the hell up. He wished he could take that whip and strangle him. Most of all, he wished he'd never set foot in Martinique.
He still wondered why he'd ended up here of all places. When he'd fled his Indian reign, he hadn't much cared where he was going. All he'd wanted to do was leave the nondescript place where he'd been born and explore the vast world outside. It hadn't mattered that being the eldest son of Prince Angad Sayed, he should've stuck around to claim the throne at his father's death, whenever that would happen. The British had told him as much, warning that his brother would have no qualms in taking his place. Kabir could've cared less. Changi was probably more suited for the job of ruling than Kabir ever would be, or so he believed.
It had been enough to pack his things one night and get the hell out of his tiny reign, eventually out of India, and plunge into an adventure that had taken him to the West Indies.
"Yes," Jules squealed without making the mistake of turning or halting his forward rush. "Yes, sir."
"What was that?" Pretending he hadn't heard, Johannes went to stand behind the man.
Kabir shook his head, sick and tired of the overseer's bullying. Someone had to talk to the count and get him to replace this odious individual. Someone who had the guts to face the consequences of such boldness, that is. Continuing to oscillate his left, he considered the point. Unlike his fellow workers, he had a choice they didn't.
Word had reached him that his father wouldn't last much longer. The council of elders had decided they'd select the new ruler on the twenty-fifth of December. With some effort, he calculated that he was at the end of June of the year 1855. That meant he had about six months to return home or lose the throne to his brother.
"I said, yes, sir," Jules repeated, his voice shaking.
"Speak up," Johannes barked. He then raised his arm and whipped Jules's bareback, leaving an angry red mark on the naked flesh.
Jules whimpered, and Kabir lost it.
"Enough." Grabbing the end of the whip, he tugged it hard until Johannes had to let it go. "Can't you treat us with basic human decency? Don't you know that slavery was abolished seven years ago?" He waved the thin strip of leather in front of the overseer, who took a precautionary step back. "You're such a coward." He spat, throwing the whip on the ground. "Why don't you pick on someone of your own size for a change?"