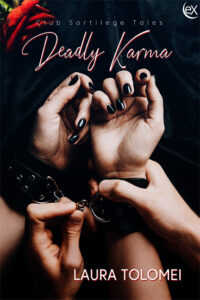 Deadly Karma
A Club Sortilege Tale
By Laura Tolomei
GENRE:
BDSM, Multiple Partners, Paranormal, Contemporary, Time-Travel, Gay Male-Male
WORDS# 49,982
"With erotically raw language and content, this paranormal, erotic, dark fantasy holds all the drama and sexual tension that readers expect from Author Laura Tolomei." BM Global Network rated it 5-Stars
LOGLINE 
He wasn't looking for love or soul mates. He was looking for that Halloween high. Such was his justification. What comes around goes around was more like it.
BLURB 
When Eunice Saint Jacques meets Adrien Ascott at the Halloween party of one of New Orleans's prestigious hotels, she thinks he's cute.
Nah, she thinks he's the most gorgeous creature ever. Little does she know he isn't all that he seems to be, and that this Halloween will seal her destiny forever!
While it's Presentation Night at Club Sortilege, the renowned New Orleans BDSM club, Yvette Carlisle, the Grand Master's slave, is worried. What happened to her friend Eunice should never have happened.
Not now.
Hell, not for a long time.
Yet, here she is, talking to Adrien and uncovering an age-old curse that makes his karma as deadly as that of Count Dracula himself. Is …

Read More→