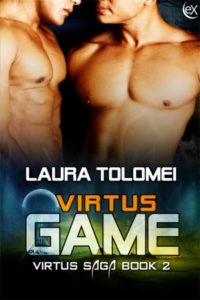 Blurb
Previously published as Virtus, The Game, this book has been completely revised and doubled in size with the addition of many new scenes.
When Prince Duncan Caldwell has to enter Cecilia Hurst's Game of Masters and Slaves, he already knows he'll have to play Master if he intends to retrieve the pyramid Cecilia stole from the sacred Nephis Valley. And his choice for a slave can only be Ylianor Meyer, however fiercely Lord Christopher Templeton resents her and her overpowering erotic intrusion in a trip that should've been his and Duncan's alone.
No, make that in a love that should've been his and Duncan's alone!
Then, things precipitate into chaos, and Duncan's new responsibilities will inevitably change everything forever, their inner balance included.
Such is the new setting of the Virtus Saga, where nothing is as it seems. Not the world, since its all-pervading sex drive hides a scary lack of violence. Not the people, since soul mates Prince Duncan Caldwell and Lord Christopher Templeton burn from a love that is unrivaled until that fateful knock on Ylianor Meyer's dilapidated shack.
This book picks up right where Virtus Sex, Book 1, leaves off and explodes lust and leadership into estrangement and chaos. It's a unique connection, laced with such jealousy and violence that are unknown to their world. Not just another erotic dark fantasy series, this is the making of a trio. Of three remarkable characters that must overcome their uncontrollable lust to face the truth about themselves and their planet if they want to defeat the darkness about to devour them. To be as one whilst three! To share power and love in equal measures. That's their real challenge, the lesson they must learn. Otherwise, how will their world survive?
Virtus Game
The Game: Author's Cut
AUTHOR: Laura Tolomei
SERIES: Virtus Saga, Book 2
GENRE: Erotica, Gay LGBT, Ménage à Trois/Quatre, Multiple Partners, Dark Fantasy, Paranormal, Romance, Series, m/m, m/m/f, m/m/m/m, m/f/f
ISBN# 9781487430818
ASIN#
HEAT LEVEL: 4 flames
PAGES: 394
WORD COUNT: 116,740
RELEASE: 21 August 2012
PUBLISHER: eXtasy Books
COVER: Angela Waters
QUOTES
"Love gone wrong hurts so goddamn much, but it's nothing compared to the pain of repressing its memory."
"You need to consider people as human beings, not as genders or categories."
"People aren't just men or women. They are individuals first and foremost."
"I'd rather you asked yourself those questions than love me because I'm a man."
"The only way we can keep growing is by questioning our convictions every day, testing them against the persons we were yesterday. For if we take them for granted, how can we be sure we still believe in them?"
Like an invading army, men attacked, conquered their position, retreated once satisfied and left all their waste behind.
REVIEWS
"Love gone wrong hurts so goddamn much, but it's nothing compared to the pain of repressing its memory."
The above quote is the essence of this new installment of the Virtus Saga.
I have labored on the rewriting of this book because I wanted it to be perfect, to convey to readers the obstacles in the way of true union and the achievement of becoming a leader.
In my modest opinion, I think I succeeded, and the story of Making a Trio, of 3 special characters that struggle to be as one whilst being three continues! (Laura Tolomei on Goodreads) 
REVIEW LINKS
Goodreads
https://www.goodreads.com/book/show/55063359-virtus-game-the-game?from_search=true&from_srp=true&qid=5fEM2aKJMO&rank=3
SYNOPSIS short
After discovering where the missing pyramid has been hidden, Prince Duncan Caldwell goes to retrieve it, together with his lover, Christopher Templeton, and the woman whom they seem to have no choice but to bring along, Ylianor Meyer. But once they get to the hiding place, they'll have to play an erotic game of masters and slaves before they can ever complete their mission. And once they do get their hands on the pyramid…well, they'll wish they never had.
SYNOPSIS long complete
To retrieve the pyramid, Chris, Duncan and Ylianor have to participate to Cecilia Hurst's Game of Masters and Slaves. Predictable who is the Master, who the Slave, with Chris playing as Guest in an erotic non-stop of domination and surrender. Predictable also Chris's jealousy at leaving Duncan and Ylianor alone. With their gift of sharing thoughts and feelings, the Game takes on a completely different meaning and brings them closer than ever. And playing solo with as many men as he could get his hands on didn't help either. All the participants can do is talk about the prince and his slave, of how differently he treats her from every other master and about his kiss in front of everyone, a passionate thing no master ever shared with his slave. A clearing up is in order, with Chris realizing that Duncan is falling in love with Ylianor, though he doesn't know it yet.
Afterward, the three of them confront Cecilia who confesses to having stolen the pyramid with David's help. The two of them are having an affair, which Prince Caldwell knew nothing about, just as he didn't know of David's Virt of moving objects at a distance. At last, he gets to see the three-sided pyramid, immediately intrigued by its transparent glass walls that conceal a ticking sphere made up of several plaques. It's something only people with Virt can see. For the others it looks like a normal pyramid with a solid blue colored structure as if made of stone. Counting on David's power, Prince Caldwell orders him to halt the plaque's movement, and chaos breaks out. Virtus kidnaps Ylianor and shows her scenes of violent outbreaks occurring to people she knows and those she doesn't. The whole world is prey to violence, havoc breaking loose everywhere. In panic, she tells Duncan to send Chris to heal the world and erase people's memories of what happened. If Chris manages to stop Virtus almost at the cost of his own life, he can't prevent Arthur Fairchild's death, which Ylianor is called to witness, or Duncan from becoming the new leader, which only complicates matter. For one thing, a searing pain on Duncan's left shoulders seals his new fate. As for the blond angel, luckily Ylianor finds a way to reach a dying Chris and save his life. With his mind more at ease, Prince Caldwell knows he can't stay at Blue Oasis. He has to save the rest of the people.
While Chris is forced to remain at Blue Oasis to recover his strength, looked after by Ylianor, the new leader sets off with David for the Hall where he has to deal with the chaos Virtus left behind. As one of the youngest leasers, he immediately proves his organizational skills and his rational approach that make his people and land recover from the shock. Once things are looking better, he proclaims three days of Festival, a feast of the senses that will be held everywhere.
To celebrate his, Duncan returns to Black Rose where he meets up with Chris first. Their reunion is hot and passionate. After sex, the prince learns things aren't right with Ylianor–she's been having strange dreams that are disrupting her sleep. The cause is probably the three-sided pyramid, which Ylianor has brought with her to Black Rose. The news only builds on his frustrations about her. While being apart, he has come to think of her as more of an intrusion inside his head than a welcomed presence, so has kept their connection closed. This doesn't change his decision to uphold his father's will and adopt her into the Caldwell family. But when he tells her, she doesn't want it anymore and in a furious rage, she storms out in a rage, planning to leave Black Rose and the two lovers all together.
You are the master!
(PG Excerpt)
From now on, nothing private between us. That Duncan was tongue deep in Ylianor's throat was an unavoidable yet unfortunate incident.
He could blame his lack of resistance all he liked. The truth was that, after he had succeeded in reclaiming her from Jeff's possessive grasp, he had been overwhelmed by the need to devour her. Since sex was not an option, he had gone for the next best thing—her sweet, yielding mouth.
An unconventional move for sure, not to mention that he was probably breaking all of Cecilia's rules on masters and slaves.
We're going to play here in the open, where I can see you with my own eyes. Having managed, not without a great effort, to break off the lustful kiss, he reached his assigned place. I won't touch you again, even if it kills me. Setting her down on the low table, he straightened to enforce his decision.
No matter how much you want me? Maddeningly bewitching, she taunted maliciously.
No. He grinned seductively. No matter how much you want me. No way would he fall for her coyness, not since the ferocious pounding in her cunt gave her away all too easily. Which isn't going to make me change my mind. Studying her face, he caught her disappointment, however quick she was to suppress it. There'll be no coming for you, not unless I say so. He made it sound final, without any grounds for an appeal. 'Cause you'll be nothing more than a mere object, a worthless toy people will use for their pleasure alone. Simply envisioning it, made his cock twitch. And you'll have to service them all. 'Cause I'm going to push you so far beyond your limits. You'll never be the same again.
What if it sounded extreme?
He meant every word of it.
He would turn her into a real slut whatever the cost like he had vowed to Chris.
I won't stop until you yield to sex for the sake of sex alone. He curled his lips in a snarl. Until they fuck you so hard, you'll have to beg me to make them stop.
I'm no beggar. She threw back her head in defiance. No quitter, either. Her smoky green eyes glittered. Test me all you must. I won't fail you, Prince.
It's Master to you. Impressed in spite of himself, he leaned forward, carefully avoiding the slightest physical contact between their bodies. And I wouldn't be so optimistic if I were you.
"Excuse me." Cloaked like a master, a tall, dark-haired, beefy man bowed in his direction. "I'm Koren, and I want that slave of yours." For good measure, he pointed at Ylianor. "Now!"